Whether you are a start-up or a well established company you must be aware of the fact that marketing through video is a much better approach to increasing your network and audience. Creating animated videos for business with immersive characters and fun dialogues to improve awareness of your brand is a better approach than simply developing a website with content about products and services.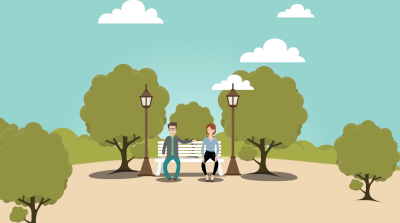 With businesses facing cut throat competition everyone is using different ways to increase the awareness and branding of their products and services! But the best way to make the audience understand you is through animated video. It's visually attractive and people are more likely to watch it till the end because most of the time it's just 2-3 minute long!
Some types of animation video that can help you in your business are 2D animation, 3D animation and whiteboard animation. 2D animation videos are useful in creating character, storyboard and backgrounds in 2D environment. In case of 2D animation characters can move up and down, left and right and create the effect of movement. It uses vector graphics.
3D animation on the other hand manipulates 3D objects with the help of a 3D software. Picture sequences are exported in a way that gives a 3D optical illusion. A third type of animation is white board animation. Here a picture or story gets drawn on a whiteboard. It uses time-lapse or stop motion to create the animation characters come alive.
Now let's look at ways  an animation video is beneficial for your business.
People love animated video
We all have watched cartoons like Tom and Jerry and Noddy and still watch them for the reason that they are fun to watch and very engaging. Even if the character is negative we don't judge them. A short 3 minute video is more fun to watch than reading a long two page article. Through videos we can get the message across in a more engaging way. People today have shorter span of attention and thus making a short immersive video is highly profitable for your business.
Increases your conversion rates
Animation videos not only have an ability to engage audience but people also take a forward step to purchasing your product. A report says that including an animation on your landing page can increase your chances of profit by 80%.
Suppose you recently opened a yoga class and no one is actually signing up for membership. Now you include an engaging video showing a girl whose life transforms after taking up yoga. She loses weight, her performance at office improves and she maintains a healthy work-life balance. After watching this inspiring video people will sign up for your classes and your turnover will ultimately improve!
Improves your SEO performance
By including animated video for business on your landing page Google will rank your page higher than other pages. Your visibility will increase and many people will crowd up on your website. As we all know most of us won't go beyond the first page of Google, hence it helps if your website is on the first page!
Help clients know your brand better
A fun and engaging animated video explaining the problems and the solution is the best way to represent your product in a business meeting with a client. Even the best powerpoints do not have the ability to engage your business partners the way animated video does. It can even help you settle a deal with client!
Your complex ideas will come to life
Even the most complex and unexplainable business ideas come to life if you take the help of professional animation makers. An idea that cannot be explained through text can be easily understood by your target audience. This will ultimately boost your business and enhance your brand!
These are some ways that an animation video helps you. So go on. Create animation video for your business but be sure to take the help of quality service provider. One such company is Animation299 which provides high quality video production services in Miami. They have a qualified team of animation video creators who will help you develop all types of videos!